"Hmmm, most of this area is clear, but the Gloom Swamp still churns. Something must be deeper inside..."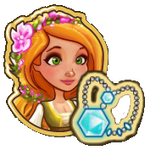 "Going Deeper" is quest 9 out of 11 in the The Gloom Swamp story line. You get it from Yvette after completing Spread the Word (Yvette).
Tasks
Dead Tree Pic

Continue purifying the Gloom Swamp by cleansing 2 Swamp Roots.

Click on a Swamp Root once you have enough Talismans and purify it. You can purchase rooted items in the market.

Buy 3 Nature items to help restore life to the Gloom Swamp.

Buy in the Nature tab of the Market.

Full Map Pic

Explore deeper into this Gloom Swamp. What secrets does it hold?

You must have Exploration Crystals, Coins and specific Castle Levels to explore.
Reward
"Yikes! More Swamp Roots! Just how far has Faugrimm gone!?"
For completing this quest you will get

1,500 Coins ,

30 XP and 1 Critter Den. You can then proceed to the Swamp Rejuvenation quest.
Who wants some?
X is chopping through gloom roots like a boss.
Take this Crystal Shard, you can always use more!

Ad blocker interference detected!
Wikia is a free-to-use site that makes money from advertising. We have a modified experience for viewers using ad blockers

Wikia is not accessible if you've made further modifications. Remove the custom ad blocker rule(s) and the page will load as expected.