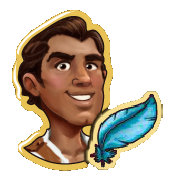 "As Club members, we must blend in with other customs and cultures to woo adventure... and love!"
"Going Tribal" is mission 5 out of 10 in the Adventure Club story line. You get this mission from Rafael after finishing the Interruptive Dance mission.
Tasks
Quest

Clear 1 Tree Stump in 5 different Neighbors' Kingdoms to use as drums.

Visit 5 different Neighbors and clear 1 tree stump in each of their Kingdoms.

Have 3 Leathers for the drums.

This item can be crafted after you build a Studio. Buy Crafting buildings in the Market.

Have 5 Feathers for Tribal Costumes.
Reward
"Yes, with this, we will honor the Naral Tree people! They may hold the secret to defeating Senor Shadow and his Gloom. Or not. They talk to sticks, so who knows."

For completing this mission you will get

3,250 Coins and

65 XP. You would also be able to start the Mountain Climber mission.

X is so cultured! Wouldn't you agree?

X is prepared to travel the globe to seek adventure with Rafael.
Luckily, you only have to click here to get some free XP.
Ad blocker interference detected!
Wikia is a free-to-use site that makes money from advertising. We have a modified experience for viewers using ad blockers

Wikia is not accessible if you've made further modifications. Remove the custom ad blocker rule(s) and the page will load as expected.