"As a first step to proving your worth and earning more Crest symbols, the GEEZERS will want to see that your Kingdom is prosperous. That seems simple enough."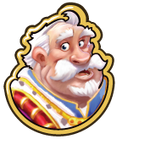 Gold Rush
is quest 1 out of 6 in the
GEEZERS Tasks
story line. You get it from
The Duke
after completing "
Some Assembly Required
".
Tasks
Tax 15 Houses in your Kingdom to show the wealth of your Kingdom.

Click on Hourses in your Kingdom to collect taxes.

Craft 2 Gold Bricks. They're quite expensive after all.

Task 2 help text goes here

Spend 50000 Coins from your treasury.

Go to the Market and spend money to complete this task.
Reward
"The GEEZERS will certainly be impressed by your prosperous Kingdom. You're well on your way to an upgraded Griffin Statue and more impressive Crest symbols!"
For completing this quest you will get

1,750 Coins and

35 XP. You can then proceed to the Clobberin' Time quest.

Healthy, wealthy, and wise.
X has proven their Kingdom is a prosperous one!
Let them give you some advice on how they did it and get 3 XP.
Ad blocker interference detected!
Wikia is a free-to-use site that makes money from advertising. We have a modified experience for viewers using ad blockers

Wikia is not accessible if you've made further modifications. Remove the custom ad blocker rule(s) and the page will load as expected.