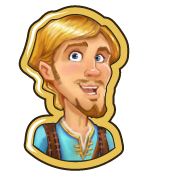 "In my travels, hungry and worn, a kind old farmer gave me some... CORN!."
"Golden Nuggets" is mission 1 out of 5 in the Magical Corn story line. You get this mission from Quinn after finishing the The Knowledge Building mission.
Tasks
Quest

Goals

Plant 30 corn. I just love seeing its golden ears growing.

Place Farm Plots to grow crops.

Harvest 30 tasty corn.

Click crops when the have fully grown to harvest them.

Feed 15 sheep. They think corn is delicious, too!

Animals will periodically hunger. Click animals with an arrow above them to feed them.
Reward
"Ah good, you've harvested the Corn! Now I can teach you some delicious new recipes."
For completing this mission you will get

2,000 Coins and

40 XP. You would also be able to start the Fluffy Goodness mission.
Ad blocker interference detected!
Wikia is a free-to-use site that makes money from advertising. We have a modified experience for viewers using ad blockers

Wikia is not accessible if you've made further modifications. Remove the custom ad blocker rule(s) and the page will load as expected.