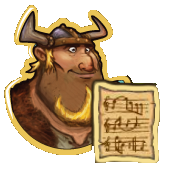 "What a day. I think I'm about as tired as Skippy is. Can you help me make him a bed so we can both lay down for a good nap?"
"Good Night Skippy" is mission 6 out of 6 in the A Pet for George story line. You get this mission from George after finishing the What Also Floats? mission.
Tasks
Quest

Harvest 30 Wheat . Harvest 30 Wheat to make a comfy bed for Skippy .

Plant Wheat and harvest it when it is ready.

Have 20 Milk . Have 20 Milk so Skippy can have something to drink before he goes to bed.

Have 8 Pieces of Sheet Music . Have 8 Pieces of Sheet Music so Yvette can sing Skippy a lullaby.

Ask Friends for Piece of Sheet Music. You can also get this from fishing.
Reward
"Shhhh, not so loud. He's sleeping."
For completing this mission you will get

500 Coins ,

10 XP and 1 Energy Potion. This is the last quest currently given by George . However, check the unreleased page for an unreleased quest line given by Skippy .
Good night, Skippy!
It's been a busy day. Time for Skippy to get some rest!
Do pet rocks snore? Grab some Cotton to stuff in your ears... just in case!
Ad blocker interference detected!
Wikia is a free-to-use site that makes money from advertising. We have a modified experience for viewers using ad blockers

Wikia is not accessible if you've made further modifications. Remove the custom ad blocker rule(s) and the page will load as expected.