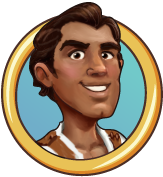 Good Times is the third quest line from Rafael. It can be accepted after completion of the quest line, Stranger in the Gloom. These Quests are part of this quest line:

Upon completing this quest line you can accept, Love in the time of the Gloom.
Ad blocker interference detected!
Wikia is a free-to-use site that makes money from advertising. We have a modified experience for viewers using ad blockers

Wikia is not accessible if you've made further modifications. Remove the custom ad blocker rule(s) and the page will load as expected.