"Acting was a disaster, but maybe I can DANCE my way to fame and fortune!"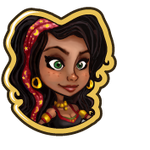 "Graceful" is quest 9 out of 11 in
The Diva
story line. You get it from
Izadora
after completing the "
Drama Queen
" quest.
Tasks
Acquire 1 Carrot Cake to feed the audience while Izzy dances.

This item can be crafted after you build a Kitchen. Buy Crafting buildings in the Market.

Have 1 May Pole for Izadora to dance around.

Buy 1 Maypole from the Market.

Have 5 Rolling Pins for baking and stuff.

Ask Friends for Rolling Pins. You need those to make cake, right? You can also get this from fishing.
Reward
"I've got two left feet. And they both HURT! At this rate, I'll never be able to help you fight Old Gloom and Doom..."
For completing this quest you will get

5,250 Coins and

105 XP. You can then proceed to the "Design Wise" quest in The Diva story line.

X has two left feet!
Izzy was Dancing with the Astrologists and not even X could improve her moves.
They could use a little pick-me-up and so could you: free Energy!
Gallery
Ad blocker interference detected!
Wikia is a free-to-use site that makes money from advertising. We have a modified experience for viewers using ad blockers

Wikia is not accessible if you've made further modifications. Remove the custom ad blocker rule(s) and the page will load as expected.