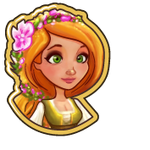 Who wouldn't rescue a damsel in distress? I'll lock myself in a tower. And I'll get hair extensions.
The "Hairy Tale" is a mission you will get from Yvette. You get this mission right after finishing the Siren Song mission. This is the 4th mission from a series of 14 missions from the Lovelorn Quest .
Tasks
Quest Image
Task
Skip

Own a second Maiden's Tower for Yvette to hang her hair out

Click on the Market to buy a Maiden's Tower

? Crowns

Have 7 Gloom Wolf Hair so Yvette can have REALLY long hair

Find by banishing Gloom Wolves

? Crowns
Have 2 Dye Kits so Yvette's roots aren't showing

This item can be crafted in your Studio

? Crowns
Reward
For completing this mission you will get 1,750 Coins and 35 XP.

Ow, ow, ow. Have you ever let someone climb your hair? It HURTS.
Tips
For each Dye Kit, you need 10 Red Feathers (you can get these from Adult Peacocks) and 2 Alchemist Powders. Dye Kits take 2 hours to make.
Ad blocker interference detected!
Wikia is a free-to-use site that makes money from advertising. We have a modified experience for viewers using ad blockers

Wikia is not accessible if you've made further modifications. Remove the custom ad blocker rule(s) and the page will load as expected.