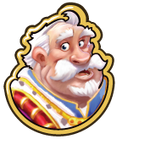 "Giovanni thinks the Cows are happy in his Reasonably Dependable Dairy Barn... but we should make sure!"
"Happy Cows?" is quest 8 out of 9 in the The Relatively Dimensional Dairy Barn story line. You get it from The Duke after completing "Bringing Up the House".
Tasks
Collect 10 Milk bottles to make certain your Cows are still alright.

Tend your Cows or Dairy Barn to get Milk Bottles.

Craft 3 Leather to check on your Cow's health.

Craft Leather in the Studio.

Have 14 Magnifying Glasses to inspect the Cows for signs of unhappiness.

Ask your friends for Magnifying Glasses.
Reward
"The Cows really do seem happy. That's good news, because a barn full of happy Cows means more Milk for our cookies!"
For completing this quest you will get

1,750 Coins and

35 XP. You can then proceed to the How Now, THAT'S a Cow! quest.
Auroch Abductions
Even with a Dairy Barn, the Duke cannot find X's Cows...
Click to gain a Spyglass and help the Duke look for Cows!
Ad blocker interference detected!
Wikia is a free-to-use site that makes money from advertising. We have a modified experience for viewers using ad blockers

Wikia is not accessible if you've made further modifications. Remove the custom ad blocker rule(s) and the page will load as expected.