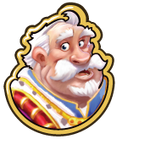 "Show the GEEZERS you're a modern-thinking monarch by making certain your subjects are happy."
"Happy and They Know It!" is quest 4 out of 6 in the GEEZERS Tasks II story line. You get it from The Duke after completing "Buttering Up ".
Tasks
Quest Image
Task
Skip

Yvette thinks your Chickens are grumpy. Feed 25 of them to cheer them up!

Click on ready Chickens to tend them.

25 crowns Crowns

Craft 5 Berry Smoothies to help Rafael maintain his smoothness.

Craft Berry Smoothies in the Kitchen.

80 crowns Crowns

Craft 2 Candles to help Alastair with his nighttime studies.

Craft Candles in the Studio. You will need a Tailor to craft Candles.

24 crowns Crowns
Reward
For completing this mission you will get 3,250 Coins and 65 XP.
Reward
"Keeping your people happy for the GEEZERS is hard work! I'm exhausted just watching you."
For completing this quest you will get

3,250 Coins and

65 XP. You can then proceed to the Mr. Clean quest.

X is a crafty one!
X has just proven their skill at crafting!
Get a Spyglass to keep an eye on them.
Ad blocker interference detected!
Wikia is a free-to-use site that makes money from advertising. We have a modified experience for viewers using ad blockers

Wikia is not accessible if you've made further modifications. Remove the custom ad blocker rule(s) and the page will load as expected.