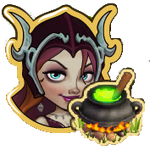 "Hmm, Faugrimm hasn't responded to my Letters of Evil Intent yet. I think it's time to resort to magic!"
"Hate Potion No. 9" is quest 5 out of 9 in the Bachelorette quest line. You get this quest from Hazel after completing Evil Intentions .
Tasks
Harvest 20 Cabbage. This is the main ingredient for the potion.

Buy Crops from the Nature section of the Market.

Get 10 Pine Cones. It takes a high heat to make these melt.

Get Pine Cones from watering Pine Trees. Pine Tree Saplings need to be water several times to fully grow.

Get 15 Piles of Sand. We really need the fresh pond muck that comes with it.

Get Sand from Fishing.
Reward
"A prickly, putrid Hate Potion! Oh, Faugrimm won't be able to resist!"
For completing this quest you will get

750 Coins and

15 XP, as well as 1 Love Potion. You would also be able to start the Gloom Chic quest.
I wouldn't drink that if I were you...
X is cooking up a magic potion.
You might want some Honey to sweeten this concoction.
Ad blocker interference detected!
Wikia is a free-to-use site that makes money from advertising. We have a modified experience for viewers using ad blockers

Wikia is not accessible if you've made further modifications. Remove the custom ad blocker rule(s) and the page will load as expected.