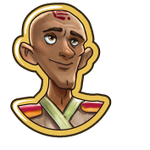 "This powerful artifact I discovered in the Gloom may help us in our battle with Faugrimm. We need to secure it!"
"Hath No Fury" is quest 1 out of 5 in the No Place Like Throne questline. You get it from Alastair during Hazel's Heartbreak questline.
Tasks
Tend 10 Sheep so they won't get hungry while you're gone.

You can tend Sheep by clicking on them.

Collect 3 Sugar Cubes to sweeten Hazel's disposition.

Ask your friends for Sugar Cubes.

Explore the gloom to discover what Hazel has stolen from Faugrimm.

You must have Exploration Crystals, Coins, and specific Castle Levels to explore.
Reward
"Remarkable... Hazel has stolen Faugrimm's Throne and taken icy revenge upon it. If we could unfreeze it, we could access its vast magical powers!"
For completing this quest you will get

2,500 Coins and

50 XP, as well as 3 Ice Fence. You can then proceed to the Cold as Ice quest.
Facebook wall post message goes here
Ad blocker interference detected!
Wikia is a free-to-use site that makes money from advertising. We have a modified experience for viewers using ad blockers

Wikia is not accessible if you've made further modifications. Remove the custom ad blocker rule(s) and the page will load as expected.