"Cupcakes are a sweet treat... especially when covered in Sprinkles!"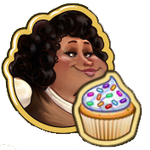 "Hello, Cupcake!" is quest 6 out of 10 in the
Get Cooking
story line. You get it from
Mia
after completing "
Batter Up
".
Tasks
Reach Mastery Level 1 of Cupcakes.

Craft in the Kitchen.

Have 20 Ogre's Belch to hide the baking smell from the Duke!

Help text required here!

Have 3 HyperCrafts to speed up your baking!

Help text required here!
Reward
"Mmm-mmm! I might just retire and let you handle the baking from now on!"
For completing this quest you will get

1,750 Coins and

35 XP. You can then proceed to the Hampered Chef quest.

X can take the heat!
Things are heating up in X's Kitchen!
Get a Wood Log to fuel your own oven!

Ad blocker interference detected!
Wikia is a free-to-use site that makes money from advertising. We have a modified experience for viewers using ad blockers

Wikia is not accessible if you've made further modifications. Remove the custom ad blocker rule(s) and the page will load as expected.