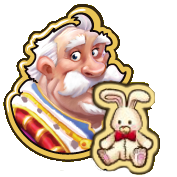 "Those cards made Yvette happy, but the best gifts are something with a personal touch."
"Her Favorite Things" is quest 4 out of 10 in the Spread the Love story line. You get it from The Duke after completing "From the Heart ".
Tasks
Harvest 10 Carrots. Yvette loves to feed the bunnies.

Click on empty Farm Plots to plant Crops.

Craft 1 Stuffed Bunny for Yvette.

Craft Stuffed Bunny in the Valentine Shop.

Fill Yvette's Valentine Spirit and unlock her new outfit.

Craft items in the Valentine Shop to fill Yvette's Valentine Spirit. Craft her favorite item to fill it faster.
Reward
"Good work! Yvette is certainly in loving spirits now. She even has some new clothes to show her excitement!"

For completing this mission you will get

500 Coins and

10 XP. You can then proceed to the Extreme Kingdom Makeover quest.

It's so fluffy!
X is making stuffed bunnies for Yvette.
Grab some free Cotton and get fluffy!
Ad blocker interference detected!
Wikia is a free-to-use site that makes money from advertising. We have a modified experience for viewers using ad blockers

Wikia is not accessible if you've made further modifications. Remove the custom ad blocker rule(s) and the page will load as expected.