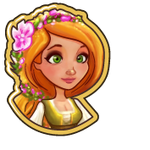 "Time to catch these bunnies. Let's make sure we finish their new home and then get to it."
"Herding Bunnies" is quest 6 out of 8 in the Hop To It questline. You get it from Yvette after completing "It's A Trap!".
Tasks
Finish building Yvette's Rabbit Hutch.

Gather the necessary materials to finish Yvette's Rabbit Hutch.

Tend 20 Flowers, Grass or Bushes to setup the traps for the Bunnies!

Tending Flowers, Grass or Bushes counts towards this task.

Perform 10 actions to spawn Bunnies after you setup the traps.

Task 3 help text goes here
Reward
"Wow, I didn't realize there were so many bunnies; and it looks like there are more coming! Maybe this really is one of Faugrimm's schemes!"
For completing this quest you will get

5,250 Coins and

105 XP. You can then proceed to the I Spy With My Little Eye quest.
Facebook wall post message goes here
Ad blocker interference detected!
Wikia is a free-to-use site that makes money from advertising. We have a modified experience for viewers using ad blockers

Wikia is not accessible if you've made further modifications. Remove the custom ad blocker rule(s) and the page will load as expected.