"Get above the tree line to see if you can spot George."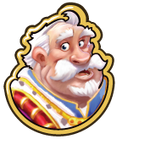 "High and Low" is quest 2 out of 8 which you get from
The Duke
during the "
Where's George?
" quest line.
Tasks
Quest
Goals

Own a Guard Tower so you can get above these trees.

The Guard Tower can be found in the market under the Royal Buildings tab.

Tend the Guard Tower 2 times to look and see if you can spot George.

Once your Guard Tower is crewed you can tend it.

Collect 5 Spyglasses to see if you can spot George!
Reward
"See anything up there?"
For completing this quest you will get

500 Coins and

10 XP. You can then proceed to the Prepping for the Cold quest.
Ad blocker interference detected!
Wikia is a free-to-use site that makes money from advertising. We have a modified experience for viewers using ad blockers

Wikia is not accessible if you've made further modifications. Remove the custom ad blocker rule(s) and the page will load as expected.