My Dungeon Master lent me his Iron Maiden. I finally have a way to make Swiss cheese! You should give it a try.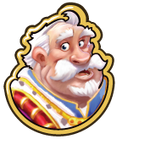 The "Hollowed Be Thy Cheese" quest is the 4th mission out of 5 which you get from
The Duke
during the "Duke Dungeon" quest line.
Tasks
Quest
Goals

Have 1 crewed Castle Dungeon in your Kingdom.

Click the Castle Dungeon after collecting all the parts to build the Castle Dungeon. Then recruit Friends.

Have 1 Iron Maiden in your Kingdom. It makes the world's best Swiss cheese!

Buy in the Royal tab of the Decor section of the Market.

Have 7 Eyes of Newt to keep watch over you new Castle Dungeon!
Reward
"The Iron Maiden is also a great meat tenderizer. No Kitchen is complete without this wonderous device!"
For completing this mission you will get

3,250 Coins and

65 XP. You can then proceed to the Nice Rack quest.
Tips
Don't tax the Dungeon as soon as it's ready! It is one of the tasks for the next quest.
Ad blocker interference detected!
Wikia is a free-to-use site that makes money from advertising. We have a modified experience for viewers using ad blockers

Wikia is not accessible if you've made further modifications. Remove the custom ad blocker rule(s) and the page will load as expected.