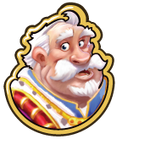 "The egg seems to be smoking and shaking. It's no Griffin Egg - it belongs to a Dragon! Quick, we've got to protect the Kingdom!"
"Holy Smokes!" is quest 8 of 10 in the Eggstraordinary Evidence story line. You get it from The Duke after completing "Zen and the Art of Nest Design" quest.
Tasks
Have 3 Wood Clubs. We've got to protect ourselves.

You can craft Wood Clubs in the Workshop.

Place 10 Bushes - in case you need something to hide behind!

You can purchase Bushes from the Market.
Reward
"That Dragon Egg is still smoking! I don't feel safe. It may be time to curl up with a pint of Vanilla Bean and hide for a while."
For completing this quest you will get

1,000 Coins and

20 XP. You can then proceed to the Draggin' Your Feet quest.

Enter the Dragon
Not all Dragons are mean. Let's hope this one is nice!
Give this one a test and get some XP for trying.
Gallery
Ad blocker interference detected!
Wikia is a free-to-use site that makes money from advertising. We have a modified experience for viewers using ad blockers

Wikia is not accessible if you've made further modifications. Remove the custom ad blocker rule(s) and the page will load as expected.