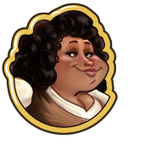 "Dressing up is fun now and then, but I just want to feel like me again. Time to get all this makeup off and get back to cooking!"
"Home Sweet Home" is quest 9 out of 10 in the How Sweet questline. You get it from Mia after completing "Tossed Cookies".
Tasks
Craft 5 Crafted Glass for a mirror so she can clean up all that makeup!

Craft Glass in the Studio after building a Jeweler.

Craft 2 Leather Aprons - it's time to get changed and start some SERIOUS cooking!

Leather Aprons can be crafted in the Studio.

Craft 5 Chicken Pot Pies.

Chicken Pot Pie can be crafted in the Kitchen after you build a Butcher.
Reward
"Ahhh. It feels good to be back in the Kitchen! Having the Duke cook ME dinner was fun, but I missed doing the cooking!"
For completing this quest you will get

5,250 Coins and

105 XP, as well as 1 Chicken and Corn Chili. You can then proceed to the Love Conquers All quest.
Facebook wall post message goes here
Ad blocker interference detected!
Wikia is a free-to-use site that makes money from advertising. We have a modified experience for viewers using ad blockers

Wikia is not accessible if you've made further modifications. Remove the custom ad blocker rule(s) and the page will load as expected.