I'm running some goodies into the forest to attract Gloom Wolves - and a brave prince. So don't interfere!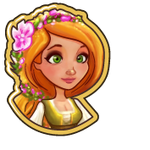 The "Hoodwinked" is a mission you would get from Yvette. You get this mission right after finishing If the Shoe Fits mission. This is the 8th Mission from a Series of 14 Missions in the Lovelorn Quest.
Tasks
Quest Image
Task
Skip
Banish Gloom Thieves to get 1 Thief's Cloak to venture into the woods with!
? Crowns

Have 25 Tomatoes to color the cloak red and guard against skunks!

Tomatoes take 8 hours to grow

? Crowns

Have 5 Mystery Meat so Yvette has something to give to Grandma!

Ask friends for Mystery Meat!

? Crowns
Reward
For completing this mission you will get 2,000 Coins and 40 XP.

"A dozen wolf attacks and not a single rescue! Maybe I should look for a dog instead of a prince."
Ad blocker interference detected!
Wikia is a free-to-use site that makes money from advertising. We have a modified experience for viewers using ad blockers

Wikia is not accessible if you've made further modifications. Remove the custom ad blocker rule(s) and the page will load as expected.