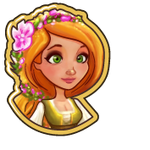 "We're nearly there! Hold on Spirit Unicorn, we'll have you free in no time! The next Unicorn is Hope, whose name speaks for itself."
"Hope Springs Eternal" is quest 7 out of 8 in the The Seven Unicorns story line. You get it from Yvette after completing "A Horse of a Different Color ".
Tasks
Have 5 Dove Feathers. A symbol of Hope.

Ask Friends for Dove Feathers.

Feed 2 animals to adulthood. The next generation is the future!

Feed animals to grow them. Use Animal Treats to make them hungry sooner!

Fill the Hope Unicorn bar with 75 points by crafting Half-Full Glasses.

Half-Full Glasses can be crafted in the Workshop.
Reward
"The poor Spirit Unicorn! I can't imagine being trapped in Faugrimm's Realm! Hang tight, we're almost there!"
For completing this quest you will get

1,750 Coins and

35 XP. You can then proceed to the Magical Friendship! quest.

The glass is NOT half empty...
X summoned the Unicorn of Hope to their Kingdom!
There's always hope for a brighter tomorrow. Click to get a Crystal Shard!
Ad blocker interference detected!
Wikia is a free-to-use site that makes money from advertising. We have a modified experience for viewers using ad blockers

Wikia is not accessible if you've made further modifications. Remove the custom ad blocker rule(s) and the page will load as expected.