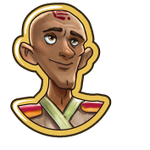 "These Gloom Flames are magical in nature. In order to extinguish them, we'll need to use magic ourselves!"
"House of Fire" is quest 3 of 9 in the The Architects story line. You get it from Alastair after completing the "Strange Noises" quest.
Tasks
Craft 2 Mystic Wind to extinguish the magical Gloom Flames.

You can craft Mystic Wind in your Beastie Lab.

Extinguish 2 Gloom Flames with Mystic Wind and save Yvette's bunny slippers!

Click on the Gloom Fire to extinguish it once you have enough Mystic Wind.

Have 4 Compasses to properly gauge which direction the Mystic Wind will blow.

Ask Friends for Compasses. You can also get this from fishing.
Reward
"The Gloom Flames are out, but the threat remains. That Gloom Dragon is here for something... and it will not leave until it gets what it wants!"
For completing this quest you will get

1,500 Coins and

30 XP. You can then proceed to the "Myrick's Flask" quest.
Winds of change
Gloom Flames won't stop X so long as they have Mystic Wind.
With these Red Feathers you can craft your own Mystic Wind.
Gallery
Ad blocker interference detected!
Wikia is a free-to-use site that makes money from advertising. We have a modified experience for viewers using ad blockers

Wikia is not accessible if you've made further modifications. Remove the custom ad blocker rule(s) and the page will load as expected.