"I'll tidy up inside the house. If you clean the yard, it'll inspire others to stand up to the Gloom!"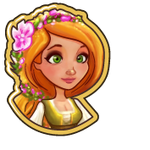 The 4th of 10 missions in the Father's Love quest chain obtained from Yvette. It immediately follows the Rebuilding mission.
Tasks
Quest Image
Task
Skip
Have 2 Wool Cloths to dust the house with.

This item can be crafted in your Studio!

? Crowns

Earn 25 Reputation Hearts

Visit Neighbors and do activities in their Kingdom to earn Reputation Hearts.

? Crowns

Clear away 5 Rocks, Plants, or Trees

Some nature items will take several clicks to clear. You can also clear tree stumps.

? Crowns
Reward
For completing this mission you will get 3,250 Coins and 65 XP.

"Whew! All that cleaning was a lot of wo - you found what? A note? From Daddy?! W-what does it say?" First Note
Tips
The last task can also be accomplished by tending flowers.
You can find the First Note where Yvette's Old Farmhouse is located.
Ad blocker interference detected!
Wikia is a free-to-use site that makes money from advertising. We have a modified experience for viewers using ad blockers

Wikia is not accessible if you've made further modifications. Remove the custom ad blocker rule(s) and the page will load as expected.