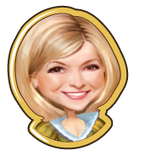 "Easter Eggs are delightful desocrations. They are the heart of any spring party."
"How Eggciting!" is quest 6 out of 12 in the Martha story line. You get it from Martha Stewart after completing the Eggcellent Decor quest.
Tasks
Place 5 Spring decorations to make your Kingdom even more festive.

Special Easter themed decorations are available int he market for a limited time!

Have 2 Masked Easter Eggs. They are a little harder to make, but so pretty.

Craft Masked Eggs in the Pavilion.

Craft a Friesian Horse Party Prize in the Party Pavillion.

Craft Party Rewards in the Pavilion.
Reward
"When your Spring Picnic party is in full swing, your Neighbors will find Easter Eggs throughout your Kingdom!"
For completing this quest you will get

750 Coins and

15 XP. This completes the How Eggciting! quest and you can now start the Thanks a Brunch quest.

Masked!
X made a Masked Egg!
X has some extra eggs just for you!
Gallery
Ad blocker interference detected!
Wikia is a free-to-use site that makes money from advertising. We have a modified experience for viewers using ad blockers

Wikia is not accessible if you've made further modifications. Remove the custom ad blocker rule(s) and the page will load as expected.