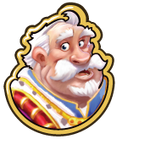 "Well, the Reputably Desirable Dairy Barn is a success! Let's celebrate our new time-saving, labor-enhancing, Cow-friendly contraption!"
"How Now, THAT'S a Cow!" is quest 9 out of 9 in the The Relatively Dimensional Dairy Barn story line. You get it from The Duke after completing "Happy Cows?".
Tasks
Craft 5 Popcorn for extra Cow-milking Energy.

Make Popcorn in your Kitchen.

Use your new Dairy Barn to collect 10 Sticks of Butter for the Duke.

Your Dairy Barn has a chance to produce Butter! However, the Duke won't mind if you make it yourself.

Craft 4 Sweet Milk Pies to celebrate your new Dairy Barn.

Sweet Milk Pie can be crafted in the Kitchen.
Reward
"Now that you can milk your Cows so efficiently, I'll have to stop by more often for Milk... and Butter... ooh, and Ice Cream!"
For completing this quest you will get

1,750 Coins and

35 XP, as well as 1 Cow Statue.
Yesterday's Moos
With X's help, the Duke has learned what a cow looks like!
Click to receive some Cow Hide so you never forget!
Ad blocker interference detected!
Wikia is a free-to-use site that makes money from advertising. We have a modified experience for viewers using ad blockers

Wikia is not accessible if you've made further modifications. Remove the custom ad blocker rule(s) and the page will load as expected.