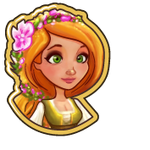 The "Hungry like a Gloom Wolf" is a mission you would get from Yvette. You get this mission right after finishing the Growing Up mission. This is the 4 mission from a series of 5 mission.
Tasks
Quest Image
Task
Skip

Have 10 Eggs

Feed Adult Chickens to get Eggs

? Crowns

Fish 10 times to gather water

? Crowns

Cook 2 Hard-Boiled Eggs

Remember that Kitchen you bought?

? Crowns
Reward
For completing this mission you will get 1,500 Coins and 30 XP.
Ad blocker interference detected!
Wikia is a free-to-use site that makes money from advertising. We have a modified experience for viewers using ad blockers

Wikia is not accessible if you've made further modifications. Remove the custom ad blocker rule(s) and the page will load as expected.