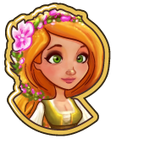 "The only way we're going to find the source of all this cuteness is by getting up high, and I know just the thing to do it."
"I Spy With My Little Eye" is quest 7 out of 8 in the Hop To It questline. You get it from Yvette after completing "Herding Bunnies".
Tasks
Have a French Tower foundation in your Kingdom.

Look under the Buildings Tab in the Market to find the French Tower.

Have 7 Spyglasses so you can spot where the Bunnies are coming from.

Ask friends for Spyglasses.

Finish building the French Tower to see out into the Gloom where the Bunnies are coming from.

Remember that you have to fully crew your French Tower before it will be complete!
Reward
"Wow, who would have guessed there would be so many stairs. I think you might have to carry me down on the way back."
For completing this quest you will get

5,250 Coins and

105 XP. You can then proceed to the For My Next Trick quest.
Facebook wall post message goes here
Ad blocker interference detected!
Wikia is a free-to-use site that makes money from advertising. We have a modified experience for viewers using ad blockers

Wikia is not accessible if you've made further modifications. Remove the custom ad blocker rule(s) and the page will load as expected.