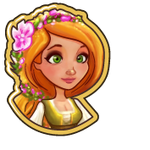 "A nearby kingdom is throwing a ball! What say I show up and 'accidentally' leave behind a slipper?"
The "If the Show Fits" is a mission you would get from Yvette. You get this mission right after finishing The Fairest One mission. This is the 7th Mission from a Series of 14 Missions in the Lovelorn Quest.
Tasks
Quest Image
Task
Skip

Have 2 Cotton Cloth for a gown

Yvette needs a new dress anyway.

? Crowns

Collect 8 Sand to make a glass slipper

? Crowns

Visit 1 Neighboring Kingdom to take Yvette to the Ball!

Click on the Neighbor Bar to Visit.

? Crowns
Reward
For completing this mission you will get 3,250 Coins and 65 XP.

Oh my aching feet! Now I know why people leave glass slippers at a dance.
Ad blocker interference detected!
Wikia is a free-to-use site that makes money from advertising. We have a modified experience for viewers using ad blockers

Wikia is not accessible if you've made further modifications. Remove the custom ad blocker rule(s) and the page will load as expected.