"If those two Gloom Trees weren't the source of the roots... then what IS?"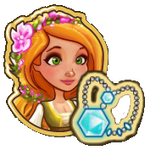 "In Foul Territory" is quest 12 out of 12 on the Enter: The Gloom Swamp! storyline. You get it from Yvette after completing Cleansed With Flame.
Tasks
Have 6 Purity Talismans. Within arms reach.

Help text required here.

Have 10 Spy Glasses. We mush keep a watchful eye!

Ask Friends for Spy Glasses. You can also get this from fishing.

Stay prepared! Craft 4 Exploration Crystals.

Help text required here.
Reward
"There still isn't something right here. All my animals are still restless!
For completing this quest you will get

1,750 Coins and

35 XP and 1 Swampy Pond. This concludes the Enter: The Gloom Swamp! storyline.
Dun-dun-duuuunnnnnn....
X realizes this is but the start of the Gloom Swamp.
Take this Silver Ore, you'll need it!

Ad blocker interference detected!
Wikia is a free-to-use site that makes money from advertising. We have a modified experience for viewers using ad blockers

Wikia is not accessible if you've made further modifications. Remove the custom ad blocker rule(s) and the page will load as expected.