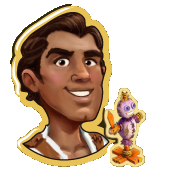 Interruptive Dance is mission 4 out of 10 in the Adventure Club Quest story line. You get this mission from Rafael after completing Fire Eater.
Quest Text
Hunting. Fire Eating. What could be next? Now is the time that we dance my friend. Will you test your dancing shoes?
Tasks
Quest
Goals

Have 5 Regal Hoes to stand in as dancing partners.

Request Regal Hoes from Neighbors.

Buy 3 Brick or Cobblestone Courtyard for a dance floor.




Courtyard can be purchased in the Deco section of the Market, under the Market tab.

Have 1 Practice Dummy to stand in for a beautiful princess for Rafael.

Buy from the Marketplace.
Reward
"You are prepared for adventure on the battlefield, or the dance floor! But the Gloom, she may ask more!"
For completing this mission you will get

5,250 Coins and

105 XP. You would also be able to start Going Tribal.

X has Boogie Fever!
X put on some dancing shoes and is a dancing machine!
Spread the fever and collect some Reputation!
Ad blocker interference detected!
Wikia is a free-to-use site that makes money from advertising. We have a modified experience for viewers using ad blockers

Wikia is not accessible if you've made further modifications. Remove the custom ad blocker rule(s) and the page will load as expected.