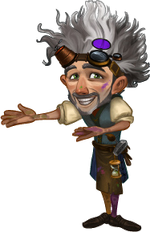 "A few tweaks here, a smack or two there, and this machine will just about be ready. You know, to do anti-Gloom stuff."
"Inventing is Hard Work" is quest 6 out of 7 in the Gloom Experiments story line. You get it from Giovanni after completing "New Direction ".
Tasks
Craft 2 Hammers to make the improvements.

Craft Hammers in the Workshop once you have a Blacksmith.

Have 5 Down Feathers to make a pillow to sit on while working.

Get this item by feeding Adult Geese.

Have 1 Anvil to bend the metal on.

Craft Anvils in the Wokrshop.
Reward
"The Gloom Slurper modifications are almost complete! I love it when a plan comes together."
For completing this quest you will get

3,250 Coins and

65 XP. You can then proceed to the Gloom Converter quest.

Genius is 99 percent perspiration...
Inventing something new can be hard work.
Enjoy a drink while X works hard.
Ad blocker interference detected!
Wikia is a free-to-use site that makes money from advertising. We have a modified experience for viewers using ad blockers

Wikia is not accessible if you've made further modifications. Remove the custom ad blocker rule(s) and the page will load as expected.