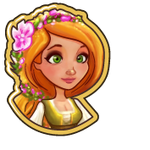 "Nature Magic can be used to grow food too? Let's try it out. It looks like Ben is still hungry!"
"It's Always Sunny in CastleVille" is quest 7 out of 10 in the A Force of Nature questline. You get it from Yvette after completing "Giant Appetites".
Tasks
Explore to find a safe spot to try out this magic.

Craft Exploration Crystals and construct Royal Buildings to explore.

Plant 10 crops. Ben is STILL hungry.

Click on Empty Farm Plots to plant crops.

Cast the Sunripen spell 2 times to instantly mature your crops!

Click the Spellbook button to cast Spells.
Reward
"Crops that grow in an instant? Amazing! I wonder what else Ben can teach us?"
For completing this quest you will get

1,750 Coins and

35 XP. You can then proceed to the The Winds of Change quest.
X has powers... Solar powers!
X is using magic to summon the powers of the sun!
It's a perfect time to get some Flaxseed Oil and work on your tan.
Ad blocker interference detected!
Wikia is a free-to-use site that makes money from advertising. We have a modified experience for viewers using ad blockers

Wikia is not accessible if you've made further modifications. Remove the custom ad blocker rule(s) and the page will load as expected.