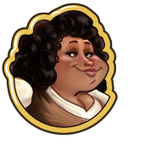 "C'mon Honey, let's get started on your new Haunted House and rustle up some surprises for the trick-or-treaters!"
"It's a Tarp!" is quest 2 out of 5 in the Halloween Treats quest line.
Tasks
Quest Image
Task
Skip

Have 6 Halloween Taffy. Don't forget about the treats!

Ask your friends for Halloween Taffy.

35 Crowns

Feed 10 Chickens. We can paint the eggs like eyeballs!

Click on Chickens to feed them.

20 Crowns

Finish building 1 section of the Haunted House.

Click on the Haunted House to build it.

Reward
For completing this mission you will get Coins and .
Ad blocker interference detected!
Wikia is a free-to-use site that makes money from advertising. We have a modified experience for viewers using ad blockers

Wikia is not accessible if you've made further modifications. Remove the custom ad blocker rule(s) and the page will load as expected.