"Yikes, I think my breath could melt a Gloom Yeti right about now. Help me cool off, and PLEASE HURRY!"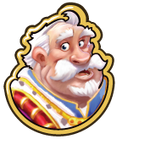 "It Burns!" is quest 2 of 5 in the
Duke Vs. Food
story line. You get it from
The Duke
after completing the "
Hot Or Not!
" quest.
Tasks
Collect 6 Pails of Water to cool off the Duke's mouth.

Get Pails of Water from fishing.

Craft 2 Grape Juice in case the water isn't enough.

Grape Juice can be crafted in a Kitchen.

Craft 5 Sticks of Butter to see if that does the trick.

Sticks of Butter can be crafted in a Kitchen.
Reward
"Hopefully this water will cool me down so we can keep training!"
For completing this quest you will get

1,750 Coins and

35 XP. You can then proceed to the "It Still Burns!" quest in the Duke Vs. Food storyline.
Water, Water Everywhere
X is helping the Duke cool off after a nasty encounter with a Chili Pepper.
Grab a Pail of Water to help out too!
Gallery
Ad blocker interference detected!
Wikia is a free-to-use site that makes money from advertising. We have a modified experience for viewers using ad blockers

Wikia is not accessible if you've made further modifications. Remove the custom ad blocker rule(s) and the page will load as expected.