"My old 'Lord of the Flame' nickname is becoming a bit too literal for my taste!"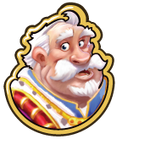 "It Still Burns!" is quest 3 of 5 in the
Duke Vs. Food
story line. You get it from
The Duke
after completing the "
It Burns!
" quest.
Tasks
Craft 1 Ice Cream to soothe the Duke's tongue.

Ice Cream can be crafted in a Kitchen.

Gather 10 Honey to help cut the spice.

Tend Flowers to gather Honey.

Have 1 Wool Cloth to wrap the Duke's tongue and try to smother the spice.

You must have a Studio and Tailor to craft this item. Purchase Crafting buildings in the Market.
Reward
"Aaaah... now THAT did the trick! Let's get back to training, shall we?"
For completing this quest you will get

1,750 Coins and

35 XP. You can then proceed to the "Anything Goes" quest in the Duke Vs. Food storyline.

Take a Chill Pill!
X and the Duke are chillin' out.
Join them and get some XP.
Gallery
Ad blocker interference detected!
Wikia is a free-to-use site that makes money from advertising. We have a modified experience for viewers using ad blockers

Wikia is not accessible if you've made further modifications. Remove the custom ad blocker rule(s) and the page will load as expected.