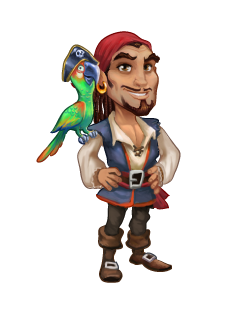 Sonja's First Mate
Jaques is a pirate and a long-term friend of Sonja. He appears during the quest line "A Tale of Two Pirates" and is mentioned in "Freinds in Need".
He will be found in the Neighbours bar at the bottom of your screen.
After the temporary "A tale of two pirates" quest, he reappears again a few weeks later with his fiancée Melody the mermaid and gives a new series of quests.
Background
Official Presentation Video
There is no official presentation video.
Jacques' House
You can collect

 ???? Coins from Jacques' house every ?? minutes.
Personality
Likes
Dislikes
Quest Series
Gallery
Ad blocker interference detected!
Wikia is a free-to-use site that makes money from advertising. We have a modified experience for viewers using ad blockers

Wikia is not accessible if you've made further modifications. Remove the custom ad blocker rule(s) and the page will load as expected.