"Jingle Bell Ruckus" is the final mission in the Save Kris Kringle quest chain obtained from Kris Kringle.
This quest follows immediately from So Fluffy.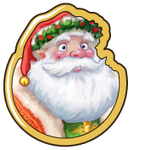 Quest Text
We can't let the Kingdom down. Banish those Beasties and keep spreading holiday cheer!
Tasks
Goals

Banish the 3 Thieves.

Craft 10 Stuffed Unicorns. Awww!

8x Cotton, 4x Cotton Thread, 4x Golden Horn

Consume 5 Fruitcakes to keep up your stamina.
Rewards
For completing this mission you will get

1,750 Coins and

35 XP and a gingerbread man snowglobe.
Ad blocker interference detected!
Wikia is a free-to-use site that makes money from advertising. We have a modified experience for viewers using ad blockers

Wikia is not accessible if you've made further modifications. Remove the custom ad blocker rule(s) and the page will load as expected.