"Oh dear! All this talk of Stonehenge's power has me worried. Maybe we should gather some extra supplies just in case the end is near!"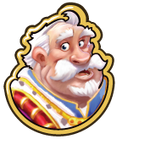 "Just In Case" is quest 4 of 9 in the
Stonehenge
story line. You get it from
The Duke
after completing the
Out Of Time
quest.
Tasks
Have 5 Eggs to store away for the Duke in case the world ends.

Click on Adult Chickens to collect Eggs.

Gather 10 Wood Logs to move a Stonehenge pillar.

Click on Trees to chop them. Sell Wood Logs if you are at the item cap.

Craft 3 Wood Clubs to fend off any beasties that might attack at the end of the world.

This item can be crafted after you build a Workshop. Buy Crafting buildings in the Market.
Reward
"Ok, maybe I'm overreacting... I can always hide in my Storage Cellar if the end comes!"
For completing this quest you will get

1,750 Coins and

35 XP. You can then proceed to the "Might be Giants" quest in the Stonehenge storyline.

Preparing for the end... again?
X is helping The Duke prepare for the end.
Take this Wood Club for any riots.
Gallery
Ad blocker interference detected!
Wikia is a free-to-use site that makes money from advertising. We have a modified experience for viewers using ad blockers

Wikia is not accessible if you've made further modifications. Remove the custom ad blocker rule(s) and the page will load as expected.