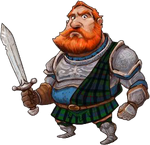 "I've been thrown from a Dragon! Do you have something soft to land on?!"
"Knight Fall" is quest 1 of 9 in the From the Knight Sky story line. You get it from Tom to introduce his character to CastleVille.
Tasks
Place the Landing Target from your Inventory for the falling visitor.

Use the Landing Target from your Inventory to place it in your Kingdom.

After placing the Landing Target from your Inventory, click on it to let the visitor know where to aim!

Click the Landing Target.

Talk to the visitor to find out what happened to him.

Signal the visitor to land in the barrel before you talk to him.
Reward
"Whew, thank you for saving me. That barrel was some quick thinking on your part!"
For completing this quest you will get

1,000 Coins and

20 XP. You can then proceed to the Knight Flying quest.

What Goes Up
...just came down in X's Kingdom! A flying Knight?
Grab some Wool to dry off after that splash!
Gallery