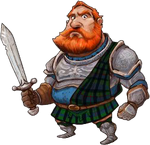 "I'm still soaking wet and a bit singed. Can you help me tidy up before the people realize I walk amongst them? Let's not keep the public waiting."
"Knight Flying" is quest 2 of 9 in the From the Knight Sky story line. You get it from Tom after completing the "Knight Fall" quest.
Tasks
Have 3 Jars of Salve to soothe some skin still sensitive from Tom's Dragon encounter.

Ask Friends for Jars of Salve. You can also get this from fishing.

Tax 1 house in 5 different Neighbors' Kingdoms to spread the word of Tom's arrival.

Visit Neighbors by clicking on the Neighbor bar.

Chop 10 trees to gather wood for a fire and help dry Tom off.

Click on trees to chop them.
Reward
"Thanks... I'm sure there will be a line of adoring fans here any minute!"
For completing this quest you will get

1,000 Coins and

20 XP. You can then proceed to the "No Need to Panic" quest.
X and Tom are chilling out.
Take a Pail of Water to pour where you wish.
Everyone in X's Kingdom is chilling after Tom took the plunge.
Gallery
Ad blocker interference detected!
Wikia is a free-to-use site that makes money from advertising. We have a modified experience for viewers using ad blockers

Wikia is not accessible if you've made further modifications. Remove the custom ad blocker rule(s) and the page will load as expected.