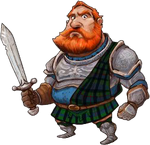 "Hoho! I really should walk off some of this food. Maybe we could visit my adoring fans in other Kingdoms?"
"Knight Visits" is quest 7 of 9 in the From the Knight Sky story line. You get it from Tom after completing the "The Charms of the Kingdom" quest.
Tasks
Tend 10 Sheep in neighbot Kingdoms to show the crowd how friendly Tom is.

Click on ready Sheep in Neighbor Kingdoms.

Craft 3 Sweet Buns to take as a visiting gift.

Craft Sweet Buns in the Kitchen.

Craft 3 Rope to hold back Tom's adoring fans.

Craft Rope at the Workshop.
Reward
"There wasn't much of a crowd out and about. Maybe they're all off erecting a statue in my honor?"
For completing this quest you will get

1,750 Coins and

35 XP. You can then proceed to the "Knight Woos" quest.

Is This the End of Tom's Road?
X wants to run off and help Tom find the Gloom Dragon.
Chew on some Carrots while Tom ponders his future.
Gallery
Ad blocker interference detected!
Wikia is a free-to-use site that makes money from advertising. We have a modified experience for viewers using ad blockers

Wikia is not accessible if you've made further modifications. Remove the custom ad blocker rule(s) and the page will load as expected.