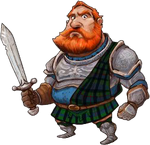 "Oooh! You have flower fields?! I mean... those can be quite dangerous. I refuse to leave until I have done a full inspection!"
"Knight Woos" is quest 8 of 9 in the From the Knight Sky story line. You get it from Tom after completing the "Knight Visits" quest.
Tasks
Tend Flowers 10 times in your Kingdom to show off the gardens.

Click on Flowers to tend them.

Harvest 20 crops to showcase the bounty of the Kingdom.

Plant and harvest crops on Farm Plots.

Have 4 Socks to help Tom settle into your Kingdom.

Ask Friends for Socks. You can also get this from fishing.
Reward
"Your flowery fields are just lovely! I mean... the perimeter is secured."
For completing this quest you will get

1,000 Coins and

20 XP. You can then proceed to the "A Knightly Journey" quest.
Tom is Kicking the Wagon Wheels
X is hoping Tom will stay to fend of Gloom Dragons.
Fighting the Gloom is important whether Tom stays or not. Grab a Crystal Shard.
Gallery
Ad blocker interference detected!
Wikia is a free-to-use site that makes money from advertising. We have a modified experience for viewers using ad blockers

Wikia is not accessible if you've made further modifications. Remove the custom ad blocker rule(s) and the page will load as expected.