The great gift-giver himself! Santa, Father Christmas, but you can call him Kris Kringle.
The Gloom Lord has been extra naughty this year, shooting Kris Kringle out of the sky and destroying the presents for all the good girls and boys. You rescue Kris Kringle as the first quest in the Save Kris Kringle quest chain: Snow Fall.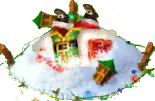 Ad blocker interference detected!
Wikia is a free-to-use site that makes money from advertising. We have a modified experience for viewers using ad blockers

Wikia is not accessible if you've made further modifications. Remove the custom ad blocker rule(s) and the page will load as expected.