"Well, you seem to have this under control. If you finish up here, I'll start preparing the celebratory feast!"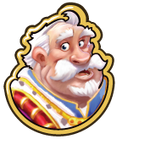 "Lamont's Demise" is quest 7 out of 8 in
The Lamont Swamp
story line. You get it from
The Duke
after completing "
Odd Pod
".
Tasks
Have 4 Purity Wands to banish Lamont.

This item can be crafted after you build a Studio. Buy Crafting Buildings in the Market.

Use Purity Wands and Banish Lamont!

Craft enough Purity Wands and click on Lamont to banish him.
Reward
"Oh, FINALLY! That nasty Lamont is gone!"
For completing this quest you will get

500 Coins and

10 XP and 1 Flower of Life. You can then proceed to the "Free At Last!" quest.

X had a blast with Lamont last night!
Can't say Lamont had that much fun though...
Get yourself 250 Coins so you can join Lamont and X on their night out next time.
Gallery
Ad blocker interference detected!
Wikia is a free-to-use site that makes money from advertising. We have a modified experience for viewers using ad blockers

Wikia is not accessible if you've made further modifications. Remove the custom ad blocker rule(s) and the page will load as expected.