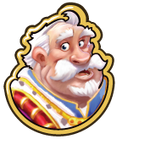 "You're nearly done, but the GEEZERS are obsessive about cleanliness. Give your Kingdom a last scrub, just in case!"
"Lather, Rinse, Repeat" is quest 5 out of 6 in the GEEZERS Tasks IV questline. You get it from The Duke after completing "The Duke's New Clothes".
Tasks
Have 7 Bars of Soap to wash behind your ears.

Ask friends for Bars of Soap.

Collect 30 Pails of Water to rinse everyone down with.

If you have too many Pails of Water try selling some from your Inventory.

Almost done! Craft 4 Large Crest Banners to celebrate your stainless Kingdom.

Craft the Large Crest Banner in a Studio.
Reward
"Reward text here..."
For completing this quest you will get

 ???? Coins and

 ?? XP. You can then proceed to the Gloom and Doom quest.
Share text here...
Share description here...
Share description here...
Ad blocker interference detected!
Wikia is a free-to-use site that makes money from advertising. We have a modified experience for viewers using ad blockers

Wikia is not accessible if you've made further modifications. Remove the custom ad blocker rule(s) and the page will load as expected.