"Sullivan seems pretty down, poor guy. Maybe a party to remind him of his home would cheer him up?"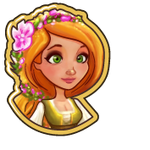 "Life O' the Party" is quest 1 out of 2 in the
It's Party Time!
story line. You get it from Yvette after completing "
Calming Treat
".
Tasks
Have a Pavilion.

Task 1 help text goes here

Place 1 St. Patrick's Day Party Starter in your Kingdom.

Craft a Party Starter in the Pavilion.

Collect 5 Shamrock Party Favors and party with your friends!

Shamrock Party Favors are earned by hosting and visiting St. Patrick's Day Parties.
Reward
"The only thing that warms me heart more than a mug o' grog is a party! Let the festivities begin!"
For completing this quest you will get

750 Coins and

15 XP. You can then proceed to the Life O' the Party, Part 2 quest.
X is throwing a St. Patrick's Day party with Sullivan, and they want YOU to join!
Get some Energy to party with X all night long!
Ad blocker interference detected!
Wikia is a free-to-use site that makes money from advertising. We have a modified experience for viewers using ad blockers

Wikia is not accessible if you've made further modifications. Remove the custom ad blocker rule(s) and the page will load as expected.