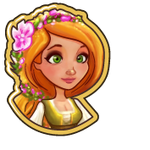 "There are more rabbits than usual popping up. I wonder if it's just a coincidence."
"Like Bunnies" is quest 1 out of 8 in the Hop To It questline. You get it from Yvette.
Tasks
Tend 5 Flowers in your Kingdom to check for Bunnies.

Click on Flowers to tend them.

Tax 7 Houses in your Kingdom to see if anyone has been seeing a lot of Rabbits lately.

Click on Houses to Tax them.

Chop 3 Trees in your Kingdom to see if any Rabbits fall out!

Click on Trees to chop them.
Reward
"Hmm... there certainly seem to be more of them. Maybe we should try looking somewhere they shouldn't be."
For completing this quest you will get

3,250 Coins and

65 XP. You can then proceed to the They're Everywhere! quest.
Here comes X Cotton Tail!
X is looking for bunnies and thought a disguise is in order.
Grab some Cotton and join in the hunt!
Ad blocker interference detected!
Wikia is a free-to-use site that makes money from advertising. We have a modified experience for viewers using ad blockers

Wikia is not accessible if you've made further modifications. Remove the custom ad blocker rule(s) and the page will load as expected.