"Our first Tournament Target! Ok, no pressure. Um... maybe looking like Merida will help?"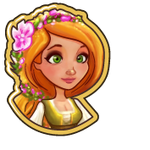 Like Merida
is quest 3 out of 9 in the
Brave
story line. You get it from
Yvette
after completing "
Meeting Merida
".
Tasks
Place the Tournament Target Merida gave to you.

Find the Tournament Target in your Inventory, use it, and click on an empty sport in your Kingdom to place it.

Use the Quiver of Hefty Arrows that Merida gave you by clicking on the Tournament Target.

Click on your Tournament Target and select the desired arrows to play in the Archery Tournament.

Have 3 Humectant to help make Yvette's hair like Merida's.

Ask Friends for Humectant. You can also get this from fishing.
Reward
"That was fun! How'd we do? Oh... at least we missed all the Sheep!"
For completing this quest you will get

500 Coins and

10 XP, as well as 1 Merida's Hair Style. You can then proceed to the Perfecting Practice quest.
Like Merida
Yvette wants to be just like Merida!
Take this Energy so you can keep polishing your archery skills.
Ad blocker interference detected!
Wikia is a free-to-use site that makes money from advertising. We have a modified experience for viewers using ad blockers

Wikia is not accessible if you've made further modifications. Remove the custom ad blocker rule(s) and the page will load as expected.