"I knew Faugrimm was behind this. I thought I recognized his foul stench!"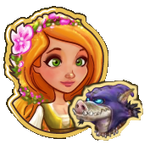 "Listen! You Smell Something" is quest 4 out of 10 in the
Enter: The Gloom Swamp!
story line. You get it from
Yvette
after completing
Gloom Roots!
.
Tasks
Quest Image
Task
Skip

You've been ambushed! Banish 3 Gloom Orcs!

Purchase Gloom Orc Potions to summon them.

? Crowns

Ask for 7 Empty Flasks to fill with scented oils.

Ask Friends for Flasks. You can also get these from fishing.

? Crowns

Harvest 10 Tomatoes. These rid the stink of anything!

Tomatoes take 30 minutes8 hours to grow.

? Crowns
Reward
For completing this mission you will get  ? Coins and 30 XP.

"It turns out that scented oils and Tomatoes are NOT a pleasant combination of smells. Still better than Gloom Orc, though."
Eau De Gloom Orc
X just found an interesting smell in the Gloom Swamp.
Take this extra tomato, you might need it to get the stink off your clothes.

Ad blocker interference detected!
Wikia is a free-to-use site that makes money from advertising. We have a modified experience for viewers using ad blockers

Wikia is not accessible if you've made further modifications. Remove the custom ad blocker rule(s) and the page will load as expected.