"The Duke is asking for seconds, but we need to keep him away. We've locked him up before, let's do it again till we can create an antidote!"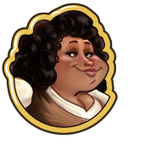 "Lock Him Up!" is quest 7 out of 10 in the Cooking Appreciation story line. You get it from Mia after completing "
What's in the Cake
".
Tasks
Tend the Duke's Bakery. Or anyone's Bakery. He'll come running!

Tend the Bakery in the Duke's Kingdom. Or any Neighbors Bakery by clicking on it.

Craft 4 things in the Kitchen to use as bait for the Duke.

Craft in the Kitchen.

Have 3 Fine Wire to tie around the Bakery!

Task 3 help text goes here
Reward
"The Duke is safely locked away... and more importantly, everyone else is safe from him!"
For completing this quest you will get

1,750 Coins and

35 XP. You can then proceed to the Enough is Enough! quest.
X is taking care of the Duke!
Help X and get Bubbly Grog of your own!
Ad blocker interference detected!
Wikia is a free-to-use site that makes money from advertising. We have a modified experience for viewers using ad blockers

Wikia is not accessible if you've made further modifications. Remove the custom ad blocker rule(s) and the page will load as expected.